Post by Rich on Feb 18, 2019 13:29:33 GMT
This post is lengthy, technical, and probably will need some study to understand — but for those who may be interested...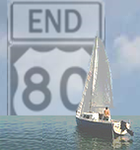 Under 15.221 you are afforded extra liberties within part 15 limits, one being your not restricted by antenna length or power. ... I mean couldn't you simply extend the wire to your hearts content to increase range providing it stays within the boundaries of whatever your institution covers? - Or is that area small making 15.219 a better option?
RE:
47 CFR §15.221 - Operation in the band 525-1705 kHz. (Text attributes added)

(a) Carrier current systems and transmitters employing a leaky coaxial cable as the radiating antenna may operate in the band 525-1705 kHz provided the field strength levels of the radiated emissions do not exceed 15 uV/m, as measured at a distance of 47,715/(frequency in kHz) meters (equivalent to Lambda/2Pi) from the electric power line or the coaxial cable, respectively. The field strength levels of emissions outside this band shall not exceed the general radiated emission limits in § 15.209.

(b) As an alternative to the provisions in paragraph (a) of this section, intentional radiators used for the operation of an AM broadcast station on a college or university campus or on the campus of any other education institution may comply with the following:


(1) On the campus, the field strength of emissions appearing outside of this frequency band shall not exceed the general radiated emission limits shown in § 15.209 as measured from the radiating source. There is no limit on the field strength of emissions appearing within this frequency band, except that the provisions of § 15.5 continue to comply.
(2) At the perimeter of the campus, the field strength of any emissions, including those within the frequency band 525-1705 kHz, shall not exceed the general radiated emission in § 15.209.

____________
The graphic below shows what might be expected for the coverage radius of a legal Part 15 AM system operating under §15.219, for the various conditions shown in the graphic.
Observations:
Sub-paragraph 15.221(b) is specific about applying only to the campus of educational institutions

The radiated emission limit at a distance of 30 meters from the transmit antenna on a frequency of 1650 kHz for a system meeting §15.209(a) is 24000/1650 = 14.54 µV/m (approx)

The first row of the table in the graphic below shows that even the worst-performing system considered there produces about 3.8 times higher field intensity at 1 km than permitted under §15.209(a) at 30 meters
Conclusion:


Unless the perimeter of the FCC-defined campus includes a geographic area of quite a few square miles, a legal, unlicensed system operating there under §15.219 could provide much greater signal strengths at the perimeter of that campus than one operating under §15.221.